[NEW] Inholland Applied Sciences Labs Delft Fall 2022 internships
We are currently recruiting for a new round for internships and graduation projects starting in September 2022, which are listed below. If are interested in joining the Inholland Applied Sciences Labs in Delft for a research project, please sign up to attend the Applied Sciences Lab Job Fair on Tuesday June 28th.
Instructions are at the bottom of this page. Please ensure to sign up before June 24th 2021.
Future of zero emission flight
To reach climate goals, the European unit set goals to transition aviation into zero emission propulsion. This transition has a significant impact on developments within the aviation industry. Most assignments are related to support a future of zero emission flight and are part of our research project, Project DragonFly (http://projectdragonfly.nl). Other assignments contribute to sustainability or other advancements within Aerospace.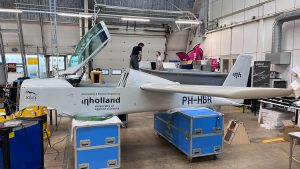 Project Dragonfly
Project DragonFly is gaining momentum in its sustainable aviation developments: Electric Propulsion. The aim is to complete the conversion to electric propulsion within 2022 together with our partners.
| | | |
| --- | --- | --- |
| Topic | Description | Level |
| Battery compartment cooling Dragonfly | Design and development of the battery compartment cooling inlet and ducting | 3rd year internship |
| Propeler testing development | Design a propeller-electric motor interface and test multiple full-scale aircraft propellers on performance (and noise). | 3rd year internship |
| Ground testing development powertrain | Perform static/dynamic tests on the Dragonfly electric powertrain as basis for certification. | 3rd year internship |
| Ground testing development electric motor | Develop tooling and perform tests focused on the Saluqi motor as part of the certification plan for the aerospace sector. | 3rd year internship |
| Battery cooling validation | Development of validation method for the battery cooling system | 3rd year internship |
| System integration electric test vehicle | Integration and validation of electric power train in electric car | 3rd year internship |
| Dragonfly Scale Model | Finishing the physical model of the DF scale model and researching autonomous flight | 3rd year internship |
| Thermoplastic composites | Optimization of press forming setup and process for the forming of 3D shape thermoplastic composites components | 3rd year internship |
FlightSimDelft
For decades flight simulation has been part of the Aeronautical Engineering program within the University of Applied Sciences of Inholland. In the last half year a team of students has successfully developed a simulator of the Pipistrel Velis Electro for the first Dutch flight school E-flight academy. Using motion base and VR technology the simulator provides for a very realistic flight experience at a fraction of the cost of conventual certified flight simulators. Flight Sim Delft aims to continue to make improvement to this advanced flight sim.
| | | |
| --- | --- | --- |
| Topic | Description | Level |
| Dragonfly simulator | Development of a cockpit (seat, dashboard, stick) for a Dragonfly simulator | 3rd year internship |
| 3DoF+1 Motion platform | Development of a low cost 3DoF motion platform with 3 rotations + heave/seat shaker | Graduation Project |
| Clamhan MK-II X-Plane Simulator | Build and validate a model of Clamhan's electric MK-II in X-Plane for flight simulation | internship or graduation project |
| Clamhan MK-II Open-Foam Simulation | Detail the flap / flaperon in design, simulation and test | Graduation Project |
| XR Flight Simulation | Develop solution to align a virtual flight simulation environment with a physical world overlay (see hands through cameras) using the Varjo XR-3 Headset | Graduation Project |
Other
Besides Dragonfly and Flight Sim Delf other activities within the Applied Science lab focus on Space, Biomimicry and rocket technology (Aquilo student team)
| | | |
| --- | --- | --- |
| Topic | Description | Level |
| Optical SatCom | Further development and prototyping of an optical SatCom system designed for next generation ground to satellite communication. | 3rd year internship |
| Apollo drivetrain | Designing and manufacturing a custom motor controller for Apollo E | 3rd year internship |
How to sign up
Sign up for the internship/graduation job fair before Friday June 24th 2022 by sending an email to rik.westerink@inholland.nl, which at least includes:
your name, education, study year and type of internship (e.g. 3rd year internship, 4th year graduation);
The assignments where you are interested in; Please include a top 3
A short motivation for the chosen assignments.
Your CV
Reserve Tuesday the 28th of June on your calendar.
What happens next?
If your email is complete, and you are eligible to start your internship or graduation project in September you will receive an invite for the job fair on the 28th. Here we will present the topics in more detail. During the fair you can discuss the assignments with the employees of the lab, convey your interest and leave a good impression. We will make the final selections soon thereafter.
Hope to see you on the 28th!
Rik Westerink
Internship coordinator – Applied Sciences Labs Delft